Hello everyone! So sorry I haven't posted in a while. Sometimes life catches up to me and I get lazy LOL. No excuses. I apologize!
Today I want to feature two polishes from the indie brand Pretty & Polished. Pretty & Polished is an Etsy store run by the lovely Chels Marie. I love supporting small businesses and this is a great one to check out if you're into nail polish, especially unique and fun glitters. I am going to show you two today, but I have a few more to swatch for the future as well.
First up is the gorgeous It Gets Better. Here's a blurb from Chels' store about the inspiration behind this color which I think is worth reading if you have the chance:
This polish was made for the "It Gets Better Project".

The It Gets Better Project was created to show young LGBT people the levels of happiness, potential, and positivity their lives will reach – if they can just get through their teen years. The It Gets Better Project wants to remind teenagers in the LGBT community that they are not alone — and it WILL get better.

I created this polish for all of the people I have lost to bullying. I understand not everyone agrees with my views on human rights and that is ok. I made this polish so that I could donate 50% of the profits to an organization that I appreciate.

The It Gets Better pledge:

"Everyone deserves to be respected for who they are. I pledge to spread this message to my friends, family and neighbors. I'll speak up against hate and intolerance whenever I see it, at school and at work. I'll provide hope for lesbian, gay, bisexual, transgender and other bullied teens by letting them know that it gets better."




This polish is a mint green crelly (creme/jelly base) packed full of multicolor holo hexes.
Cool right?! You can feel great about supporting this cause and the color is absolutely stunning!
Chels has been working hard on the brands new printed bottles and I think they look fantastic! Take a look for yourself: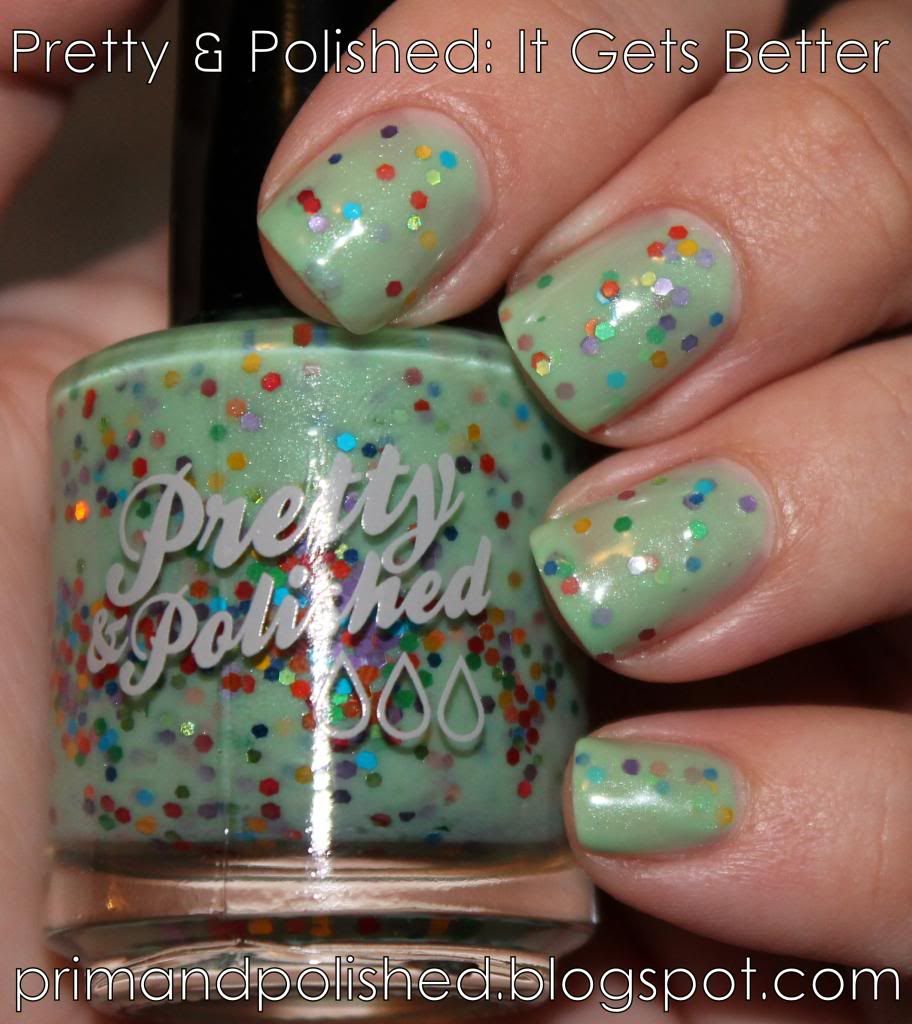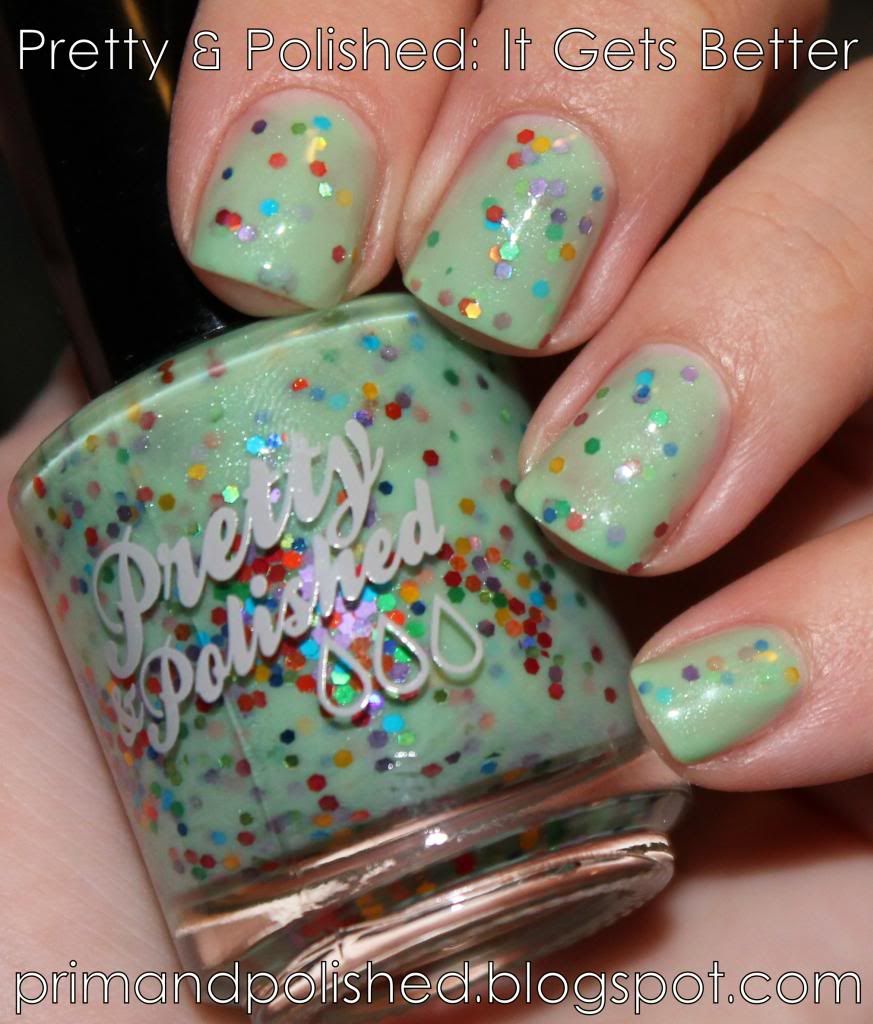 Love that color and the bottles are awesome! The photos shown are two coats. I think you can get away with two but you might want to use three since the base is pretty sheer. I love the underlying mint green color, it's just beautiful and squishy looking! Squee!!
Next up is Mannequin Hands a name which all you polish loves will understand and love. This takes the concept of Mannequin Hands and fancies it up a little. Chels describes this color as: "

a very light skin tone base and is packed with pastel pink hex glitters." I think one is a great color for work! Below is the old style full sized bottle, I believe Chels is moving away from those and onto the new printed bottles I showed above. This is two coats.
What do you think of these two beauties? I love them both but It Gets Better is just stunning to me!
Be sure to check out Chels' store on Etsy, I think you'll find tons of unique colors to add to your collections. You can catch up with Chels on Instgram under the name prettyandpolishd too! While you're at it, follow me on there, I'm primandpolishedblog.
Let me know if you have tried Pretty & Polished lacquers and what you think of them!

Disclosure: This product was provided by PR for review purposes. All reviews are 100% honest and done at my discretion. For more information please see my
Disclosure Policy.