Hi everyone! Today I want to share the contents of my very first Influenster Cosmo Vox Box. If you haven't heard of Influenster and are big into social media, I suggest you go learn more about it here. It's free to sign up and fun to participate in. Everyone seems to have an equal opportunity to be selected for a box if they get involved in unlocking badges and writing reviews on the site. I think it's pretty cool. I was really excited when I got the email from Influenster that I was getting the Cosmo Voxbox 2012. I couldn't wait to see what arrived. I love surprises, especially free ones!
So here's a peek inside my Influenster Cosmo Vox Box:
The box comes with a card describing the contents so that if you like what you test you know where to find it and how much it will cost. This is what was inside this season's box: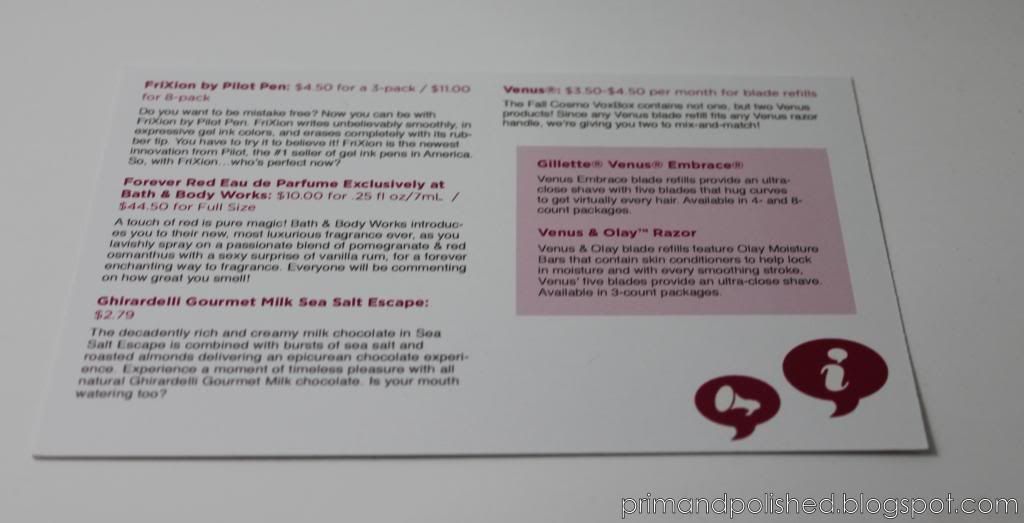 Inside were two FriXion Pilot Pens, one sample of Forever Red from Bath and Body Works, one bar of Ghirardelli Milk Chocolate in Sea Salt Escape and one Venus Embrace with corresponding Venus & Olay Razor.
Of course I had to dig into the chocolate straight away. I have a major sweet tooth and tell me there's sea salt involved and I am all over it. This bar is really tasty. I am more of a dark chocolate lover myself but a good old milk chocolate hits the spot when I am craving something really sweet. I love sea salt and chocolate so this was a nice match, but I will be honest and say I do wish there was a touch more sea salt. I am used to sea salt/chocolate/caramel and the sea salt is typically more prominent; this has just a touch to bring out the flavor. It's nice if you like subtle. Overall who can say no to chocolate. Thumbs up from me.
So far I have also tried the Forever Red Eau de Parfum which is really pretty and fruity. Bath and Body Works describes it as:
Our most luxurious longest lasting fragrance blends opulent notes of fiery red pomegranate and delicate peche de vigne, a rare and fleeting French peach. Soft petals of red osmanthus give way to notes of addictive velvety marshmallow and a surprising finale of rich vanilla rum that leaves an unforgettable impression.

Top Notes: Fiery Pomegranate, Rare French Peach, Luminous Apple

Mid Notes: Red Peony, Night Marigold, Red Osmanthus

Dry Notes: Rich Vanilla Rum, Velvety Marshmallow, Oak Wood
I get a lot of the fruit notes. It does have a nice mellow dry down so I think that is where the marshmallow, vanilla rum and oak wood comes in. It's quite a nice scent. I dig it.
It was really fun getting this Influenster Cosmo Vox Box in the mail. I didn't know what was going to be inside so when I got it it was so fun to open. I encourage you to check Influenster out! It's open to everyone and we all seem to have equal shots of getting picked for a box of some kind. If you love trying new things and telling everyone on the internet about what you tried you'll love this! Have fun! Let me know if you ever get a box!
Have you entered my giveaway!? This is the last week to enter. Good luck!

Disclosure: Influenster is a free service anyone can use. I did not get special preferences because I am a blogger. I am just a regular user who got lucky enough to get selected.