Happy Friday ladies and gentlemen! I hope you all have fun plans for the weekend. I have a packed weekend ahead with holiday parties and a trip to the "North Pole" with my nephew. This is my favorite family tradition that my parent's started when I was just a child and now I am passing it down to my husband's family and my nephew. There's a place not to far with an amazing old Steam Train. This time of year they transform the train into the North Pole Express and visitors get to see ride the train to the "North Pole" to pick up Santa and Ms. Claus. On the way to the "North Pole" elves sing and dance and pass out complimentary hot cocoa and cookies. Then once Santa is picked up he comes around and greets each and every child. It's really adorable and I am so happy to be able to share one of my favorite childhood memories with my husband, brother in law, sister in law and nephew. Can't wait!
Since Christmas is fast approaching I figured I'd show you all a red today.
This is OPI's
The Spy Who Loved Me
and it's part of the Skyfall Collection.
The Spy Who Loved Me
is a lollipop red with some subtle gold micro-shimmer. The gold micro-shimmer is more detectable in the bottle than on the nail, once applied it blends in with the red and gives that lit from within glow.
The formula on this is jelly like but not quite a full on squishy jelly. It's fairly sheer so I would say you'd do best with three coats on this one. It's got a gorgeous high shine to it that makes it more special than the average red in my book. While it can be considered a pretty festive red, I do think this works throughout the year and I would consider a color like this classic and safe for most situations.
Application was beautiful like most OPI polishes. I had no issues at all other than it being a bit sheer which I think is intentional and actually adds to the lacquer's appeal.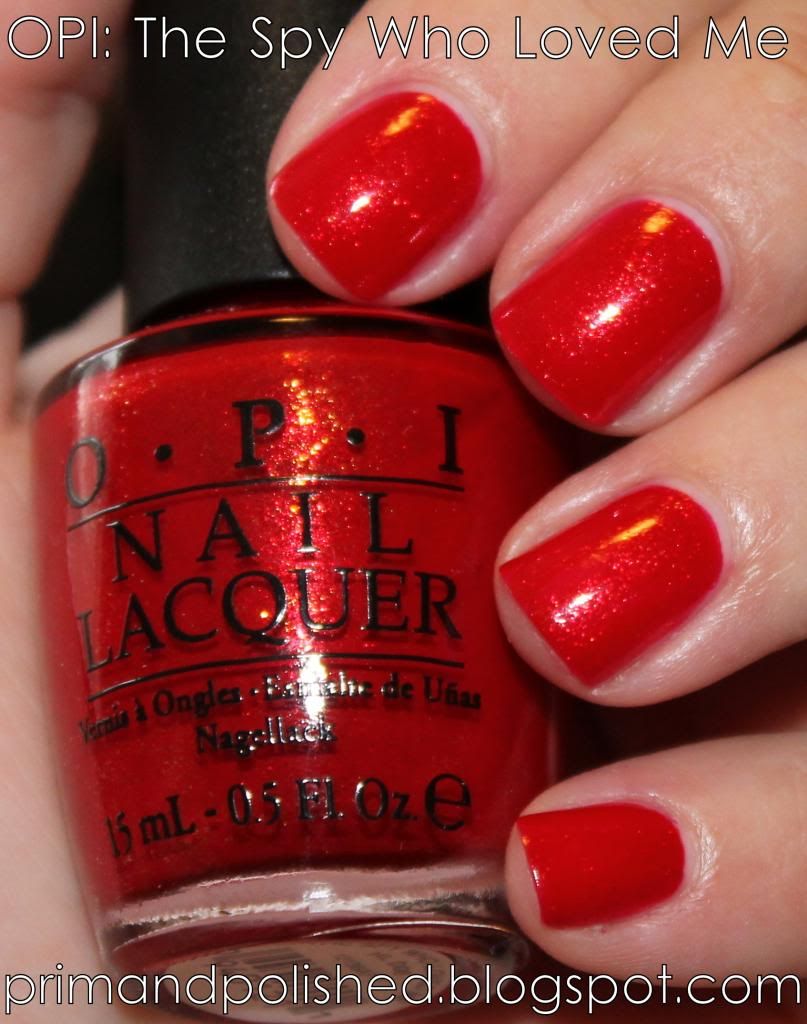 Want to win this beauty and the rest of the Skyfall Collection? Check out my giveaway here.

What are your plans for the weekend? Do you have any fun traditions like my North Pole trip?

Disclosure: This product was provided by PR for review purposes. All reviews are 100% honest and done at my discretion. For more information please see my
Disclosure Policy.